Post by Accutronitis on Jul 8, 2019 8:58:09 GMT -8
A person I'll just refer to as "Bob" and a small few like him in the wrist watch community quite routinely throw around claims of "fake" this and "fake" that, while using what they call "evidence" or "proof" which at best is nothing more then their opinion which is based solely on what they believe they see in a picture or their ridiculous interpretation of something that was said by someone, For example this most recently made and obviously false claim made by "Bob" which by it's self is irrefutable proof that "Bob" makes false claims, And he's not the only one !
Here is just one of the many obviously false claims "Bob" routinely makes...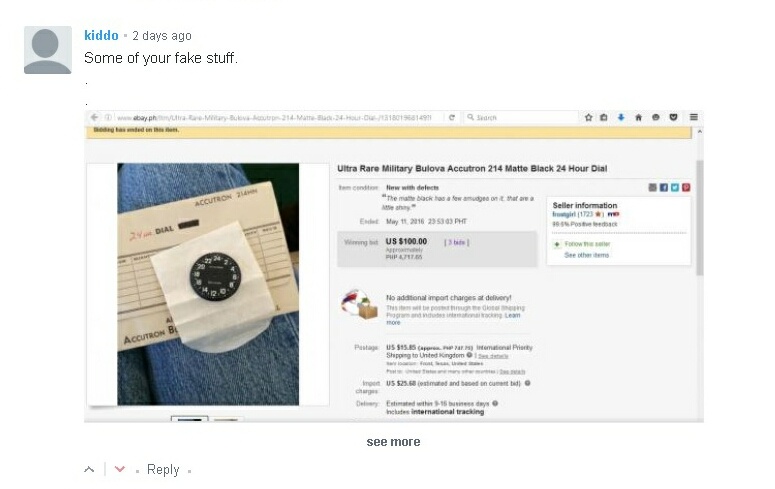 Setting aside the fact that I wasn't the seller OR the buyer...
The 24-hour dial in that picture is shown with the original Bulova factory packaging, One thing I should point out for anybody noticed the word "SHIM" was blacked out and 24 hr was written in front of "DIAL', That was quite common for Bulova in the 60's with very small production runs of a part to use existing packaging and just relabel them by hand like they did in this case, Over the years I've bought literally hundreds of NOS Bulova Accutron 214 parts and most of them were in factory packaging and I have seen Bulova relabel packaging many times as it was a common practice...
Here is a closer look at what he is claiming is fake !!!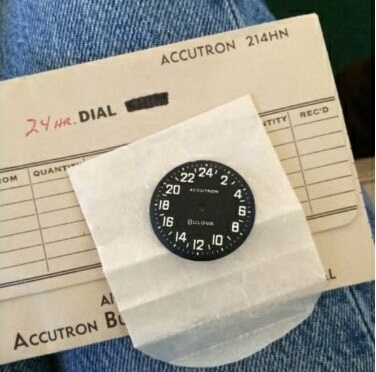 It's not "fake" and not only that but I don't see how ANYBODY would think that since it is clearly shown with the original Bulova factory packaging ! IDing parts just doesn't get any easier than that !!!
But if that wasn't enough I happen to own a watch with the very same incredibly rare "Dished" 24-hour dial (pictured below) with the only difference between the two dials being the dial in my watch isn't in NOS condition like the dial pictured above which had never been used and was still in the original factory packaging...
The front side of my dial...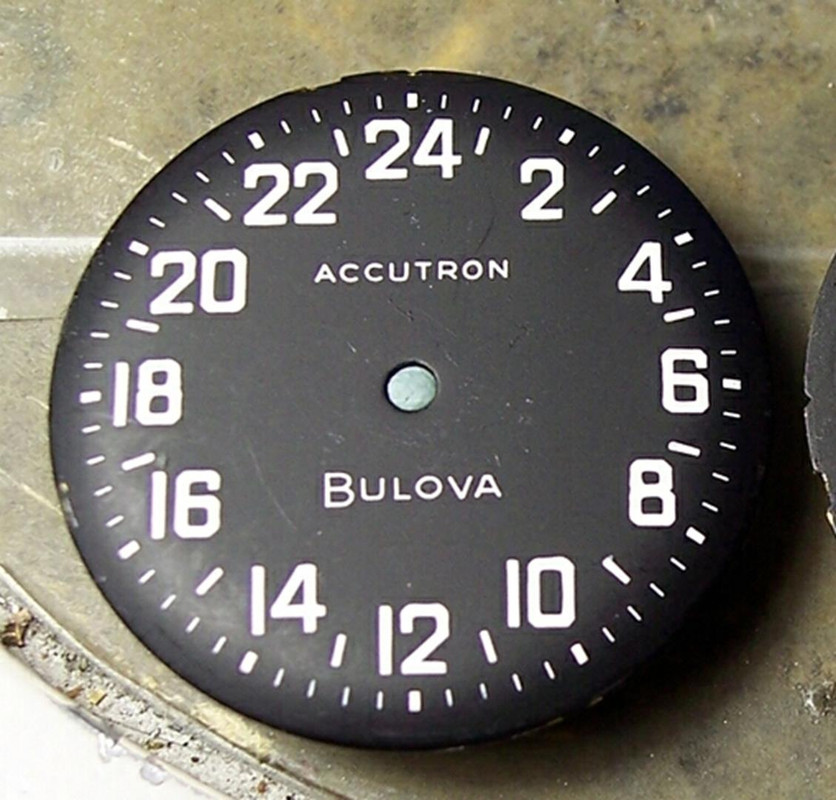 And the back side of my dial with all of the Bulova factory ink stamps intact...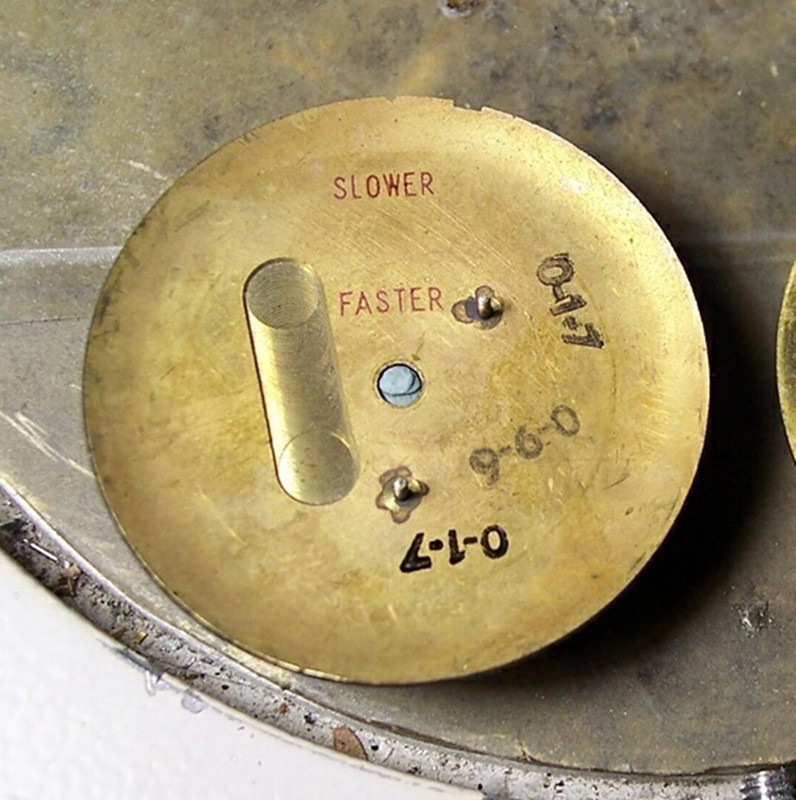 All the Bulova factory ink stamps on the back of the dial above leaves no doubt about that dial variant or the dial itself is in fact a genuine Bulova factory made part!
I'm at a loss to explain why "Bob" and people like him do something so blatantly dishonest ? The only thing that comes to mind is people like "Bob" feel the need to bad mouth myself or people like me, So much so that they don't give a second thought of trying to keep any integrity or honor as demonstrated by the so obviously false claim of "fake" while showing in the same post the Bulova 24-hour dial WITH THE ORIGINAL packaging that is clearly marked what it is which it's self leaves no doubt that moronic claim is wrong!
I have no idea what people like "Bob" hopes will happen when they do that sort of thing, "Bob" and the people like him make those sort of claims all the time because it's so easy to make any claim they feel like makng, Any fool can do it ! I'm only left with thinking they somehow believe that nobody will know they are certainly wrong about their claims of "fake" because very few people really know Bulova well enough OR in this case can't recognize the original factory packaging when they see it and so they will just have to take the person (making the ridiculous claims) word on it at face value, It is baffling to me how easily they so routinely thrown away any hope of possible integrity and continue to do so to this day even though it could only very rarely have the desired effect I'm guessing they must be hoping for...
My advice to anyone reading such claims of this type is to keep a healthy amount skepticism because such claims are usually rooted in some sort of conflict the person making such claims has with himself or others and I'd go as far to say most likely it's mental illness at it's worst...
And to the "Bobs" of the world, If you happen to read this thread, This is what real proof looks like, Maybe you should try it some time!
The views expressed in this post are the writers opinion only and do not reflect the views of the host of this website ProBoards...